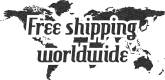 nano SIM and microSIM adapters
With the introduction of the Apple iPhone 5 the world has become richer for a new SIM card standard.
Nano SIM card is 40% smaller than micro SIM, its dimensions are 12.3 x 8.8 mm.
Free Shipping Worldwide*

* Free worldwide shipping for orders with 3 adapters of any type (can be mixed). We ship to every country in the world!

PayPal payment

To guarantee the highest security of your transaction, we accept PayPal to reduce your payment risk.
Order form
Want FREE shipping?
Add 1 more adapter and we will not charge you any shipping costs!
Checkout!